About the Episode:
In today's episode, we're talking to Jan Schulz-Hofen, the co-founder and managing director at Plan.io, a project management platform that's build to make team & client collaboration more efficient and fun.
What I like most about Planio, is that the company actually started as a SaaS side project—and is today bringing in over $110,000 in monthly recurring revenue (which is well over $1 Million/year).
Here's the company's revenue trajectory from late 2017, which has grown significantly since then: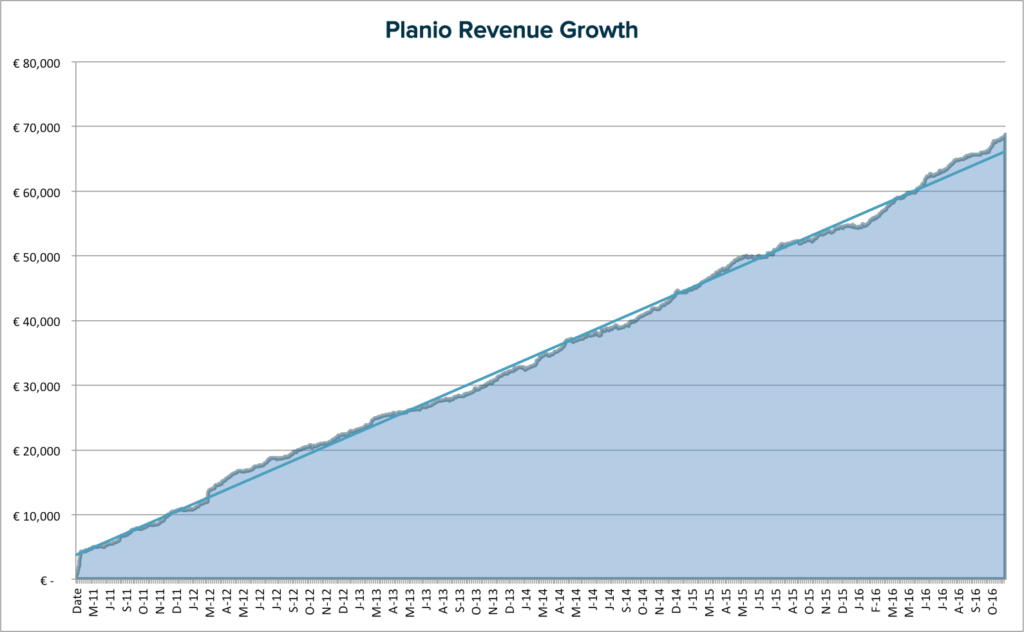 About 10 years ago, Jan was in the middle of running his own web design & development agency in Berlin, called Launch Co. They partnered with clients like Software AG, Enterprise Rails, and Font Shop to help build and launch Ruby on Rails applications, and all the while, Jan's team was constantly launching their own side projects—knowing they'd want to get into running a product-focused business, rather than being service providers forever.
So naturally, Planio was born out of their drive to create a solution to a consistent problem they were seeing with their clients they'd help clients build and launch new projects, but after that many of them didn't have a good process in place for continuing to manage those new projects.
So, Jan and his team built Planio and they got their first customers for the product by selling it to their existing pool of web development clients. Going on almost 7 years with Planio now, they've been steadily growing their revenue and team.
In Today's Episode, We Talk About:
[03:39] Where he's originally from.
[05:40] His first job after university.
[06:50] His background as a freelancer and at launch Co.
[08:05] His first paying client at launch Co.
[10:41] What Plan.io is.
[13:48] How resources where allocated away from his consulting business to Planio.
[16:38] When things at Planio really kicked off.
[18:59]What customer acquisition strategy is working best at Planio today.
[20:28] His number one piece of advice for anyone who wants to build a SAAS tool.
22:05 Ideas they've tried in the past that have failed.
[24:50] Sacrifices he's had to make to grow his business.
[27:26] The best investment he's ever made in growing his business.
Like What You're Hearing? Subscribe for New Episodes.
Connect with My Guest:
Subscribe, Review, & Share:
If you enjoyed this episode of The Side Hustle Project, I would love your support. Head over to the show on iTunes or in the Apple podcast app and give us a rating please! And as always you can catch every episode on the Apple podcast app, Stitcher or wherever you get your podcasts. Thanks for tuning in.