About the Episode:
In today's episode, we're talking to Michele Romanow, a seasoned entrepreneur who grew her side hustle in the daily deals space to more than $500,000 in revenue in just 3 months (!!!).
She'd later go on to acquire 10 of her competitors in this industry and sell the company to Groupon for an undisclosed amount. Now, Michele is a judge and investor on the massively popular tv show, Dragon's Den, which is Canada's equivalent to the hit show Shark Tank.
Michele also recently launched a new company called Clearbanc, that's aiming to give modern, hassle-free financial services to the self-employed, freelancers, independent contractors and entrepreneurs.
In Today's Episode, We Talk About: 
02:10 We start off by finding out what book Michele is reading at the moment (Grinding It Out by Ray Croc).
04:31 How she got started in business and her very first side hustle.
05:40 She dives into her foray in the caviar business.
06:53 How she got her first paying customer for the business.
09:12 The role she played in that business.
10:43 Her advice for anyone looking to start a business with friends, colleagues or co-workers etc.
13:26 Her next venture after closing down the caviar business.
15:34 Closing $10,000 in deals at her first trade show with just a landing page & how she positioned her app to vendors at that show.
16:21 She goes into more detail on the early stages of Buytopia
17:38 The point she decided to quit her day job and start working on Buytopia full-time.
18:44 The most difficult sacrifices she had to make after committing to Buytopia full time.
20:08 The later stages of Buytopia before it was sold to Groupon.
22:18 How she was able to broker deals for her new app with major companies like Coca-Cola.
24:17 Her advice on how to have more effective cold pitches.
28:31 What she did next after selling Buytopia to Groupon.
29:48 What's she's currently doing at Clearbanc.
30:20 Her most effective channel for getting new users and testing out the product.
32:04 How she became a judge on the show, Dragon's Den.
33:47 Advice for listeners who are seeking investor funding.
39:28 The number one thing you should focus on if you're looking to start a side hustle.
41:55 Her recommendations on how to overcome the fear of failure & just getting started.
43:35 She gives her best piece of advice for getting your first 100 customers.
Like What You're Hearing? Subscribe for New Episodes.
Resources Mentioned:
Connect with My Guest:
Michele Romanow on Facebook, Instagram, Twitter and at her new company Clearbanc
Subscribe, Review, & Share:
If you enjoyed this episode of The Side Hustle Project, I would love your support. Head over to the show on iTunes or in the Apple podcast app and give us a rating please! And as always you can catch every episode on the Apple podcast app, Stitcher or wherever you get your podcasts. Thanks for tuning in.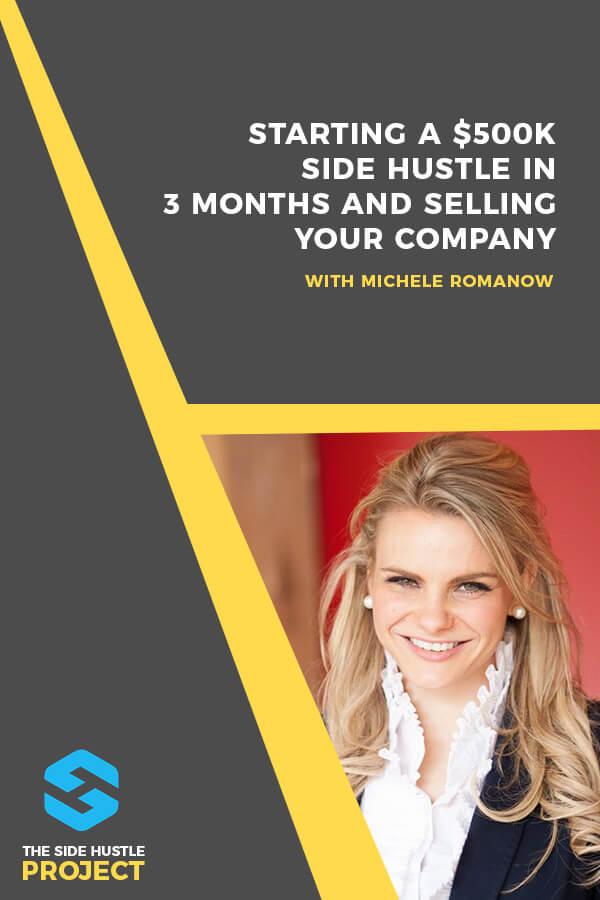 Shoutout:
Special thanks to our sponsor for this episode, Freshbooks: Cloud accounting for freelancers, solopreneurs and side hustlers.