About the Episode:
In this episode, we're talking to Steli Efti, the CEO of Close—an inside sales CRM for startups and small-to-medium businesses.
Over the past decade, Steli has become one of the foremost authorities on the topic of sales advice in the world of start-ups but things weren't always this way for him.
After picking up his first book at the age of 16, he got deep into finance & investing. Steli tested the waters with his own money, then started his first side hustle at 18—a financial services company where he advised other people on how to invest in the market. It did really well and to this day, Steli has never held a full-time job working for somebody else.
On Steli's very first day here in the U.S., he sat next to Robert Scoble, one of the world's most famous technology bloggers, at a Meetup event in San Francisco. At the time, Steli had an idea for a startup he wanted to build, but he didn't know how or where to get started—he was in a foreign country, and had zero experience working in tech.
But because he started going out of his way to meet people and build relationships on literally, day 1 in the U.S., he got lucky and happened to meet one of the most connected people in the tech world at the time. The next day, Robert Scoble picked Steli up from his hotel, interviewed him for an hour at a coffee shop, and invited him to an event he was speaking at later that week.
So, what did Steli do? He said hell yes to the invitation—and jumped outside of his comfort zone again. At that next event, as it was winding down, there was an open mic opportunity for people to come up and pitch their ideas, ask for feedback, get investors interested… Steli didn't have anything to pitch, but he knew this was a priceless chance to meet even more people that were connected in the industry.
So, he grabbed the mic, told the entire audience that he was brand new here in the U.S., didn't have anything to pitch them, but if they wanted a Greek friend, to come and meet him. The crowd completely lost it because this was such a surprise, and Steli was swarmed with more than a hundred people who wanted to talk to him and become friends.
THIS moment set the tone for Steli's career as an entrepreneur—and he's gone on to start multiple companies, go through the renowned startup accelerator Y-Combinator, work with tons of recognizable names in the world of entrepreneurship, and more.
Steli is the embodiment of the hustle…
In Today's Episode, We Talk About:
[04:45] We start off by finding out which business books Steli is reading at the moment.
[06:57] An overview of his life and why he moved from Greece to the USA.
[09:31] He talks about his very first business.
[12:44] The idea that led him to move to San Francisco.
[16:22] How he met Robert Scoble, one of the world's most famous technology bloggers.
[20:49] How good friendships turned into good business opportunities.
[23:34] What his former company, Elastic, was and how he came up with the idea.
[30:17] He dives into his process of growing, testing and launching a business idea.
[35:48] Why content marketing is Steli's most effective growth channel.
[38:52] He shares his most effective content marketing strategy.
[40:09] Steli's best sales advice for new side hustlers.
[42:27] His shares some failures he's had as an entrepreneur.
[46:16] The best investment he's made in growing his business.
Like What You're Hearing? Subscribe for New Episodes.
Resources Mentioned:
The Tao of Charlie Munger by David Clark
Why I Fight by B.J Penn
The Answer to How is Yes by Peter Block
A One-Way Ticket from Germany to Silicon Valley (Stefi's Interview by Robert)
Connect with My Guest:
Email Steli for sales advice at steli@close.io
Steli Efti on Twitter and LinkedIn
Subscribe, Review, & Share:
If you enjoyed this episode of The Side Hustle Project, I would love your support. Head over to the show on iTunes or in the Apple podcast app and give us a rating please! And as always you can catch every episode on the Apple podcast app, Stitcher or wherever you get your podcasts. Thanks for tuning in.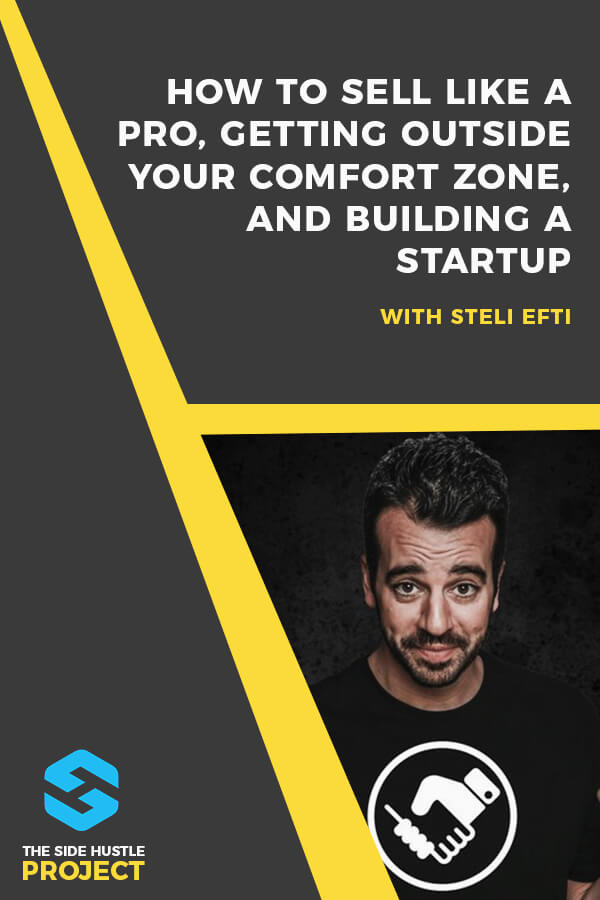 And for those of you who love Pinterest, here's an image I put together that plays nicely over there 😊