About the Episode:
In this episode, we're talking to Noah Kagan, the founder of 2 multi-million dollar businesses: Appsumo and Sumo.com. For being just 35 years old, Noah's got a pretty insane life story already and we're digging into everything in this episode.
Noah was employee #30 at Facebook (which as of today is valued at $432B), but he got fired after less than a year there before any of his stock vested, so he walked away with nothing.
During his time at Facebook, he was also working on his very first side hustle—a conference for young entrepreneurs that netted him $50,000 in profit.
Next, he landed as the director of marketing, employee #7 at Mint, the personal finance app, before they even launched and long before they'd go on to be purchased by Intuit for $170M.
But again, Noah left before any of his stock vested at the company, walking away with nothing for the second time.
So how'd that pan out for Noah? Well, he went on to turn down an acquisition offer for $100,000 plus equity for his game company (while he was still working full-time at Mint). This offer would've been worth somewhere between $8-10 Million today.
Instead, Noah eventually sold his game company for around $10,000 after it was clear only a few of them were really taking off.
He took that money, started doing payment processing for apps and eventually launched a side project called Appsumo, a deals site where people can pick up discounted offers on popular online tools & apps, that would go on to become his first million dollar business.
In This Episode, We Talk About:
[04:56] Noah talks about how selfishness can get you everything you want.
[08:50] He explains why he calls people he hires "teammates."
[09:55] He shares his story of what he did after graduating from college and getting a job.
[13:19] He talks about his first side hustle.
[16:19] Hear how Noah lost $170,000,000 as a result of his Facebook misadventure.
[20:39] He also talks about how he created his first Facebook game.
22:45 Noah talks about how he made $1,000 in 24 hours selling beef jerky.
[28:35] Listen to how Noah used his addiction of side projects to eventually start one that became a million dollar company.
[31:51] He discusses what his life and business goals are.
32:46 He shares his best piece of advice on how to validate an idea.
[33:26] He talks about sacrifices he's made in order to create enough time for his businesses.
[36:01] He talks about the best investment he's ever made in his business.
[36:49] He shares where he finds talented partners that complement his skills.
[38:31] And finally, Noah talks about what has been the most effective growth strategy for Sumo.com.
Like What You're Hearing? Subscribe for New Episodes.
Related Resources:
How I Lost 170 Million Dollars: My Time as #30 at Facebook by Noah Kagan
112 Motivational Quotes to Hustle You to Get Sh*t Done
Connect with My Guest: 
sumo.com
appsumo.com
OkDork
Noah Kagan Presents (Podcast)
Noah Kagan on Twitter, Instagram and LinkedIn
Subscribe, Review, & Share:
If you enjoyed this episode of The Side Hustle Project, I would love your support. Head over to the show on iTunes or in the Apple podcast app and give us a rating please! And as always you can catch every episode on the Apple podcast app, Stitcher or wherever you get your podcasts. Thanks for tuning in.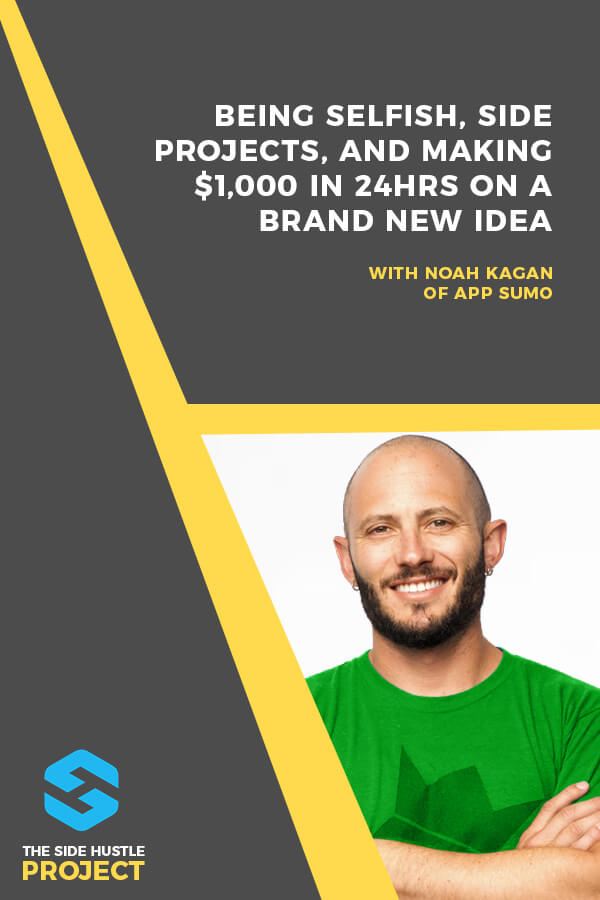 Shoutout:
Special thanks to our sponsor for this episode, Freshbooks: Cloud accounting for freelancers, solopreneurs and side hustlers.