About the episode:
In this episode, we're chatting with Mubashar Iqbal aka Mubs. To put it modestly, Mubs is one of the most prolific side hustlers I've ever met.
He was recently named Product Hunt's Maker of the Year for 2016, and now has 46 total side projects he's launched on Product Hunt.
As a software developer by trade, Mubs side projects are earning him around $10,000/mo and he's pretty much always working on something new.
The week we recorded this interview, he had just launched a new side project called Will Robots Take My Job—and it received nearly 2 MILLION page views within the first few days of going live. In our interview today, we dig into how that happened in real-time while Mubs was in the middle of it.
In Today's Episode, We Talk About:
[02:49] As always, we start off by finding out what book Mubs is reading at the moment.
[04:37] He names few of the products he's made and touches a bit on how they work.
11:22 He talks about his latest side project, Will Robots Take My Job.
[17:35] Learn how he got 2 million page views for his most recent side hustle.
[27:20] He shares how having the right partners helped simplify the process of reaching out to press.
[30:45] He talks about where he finds talented partners that complement his skills. He also talks about his personal project management process that enables him to launch projects quickly.
[34:38] He gives his best piece of advice on how you can find great partners for your projects.
[38:28] Mubs gives another great piece of advice on how you can validate your side project idea.
[39:43] He touches on sacrifices he had to make in order to create time for his side projects.
[42:15] And finally, Mubs talks about how he recognizes the right idea and tests his way into it.
Like What You're Hearing? Subscribe for New Episodes.
Resources Mentioned:
Tools of Titans by Tim Ferriss
Top Publications
Will Robots Take My Job? Features on Barstool Sports
Hackathon
Connect with My Guest:
mubs.me
Mubashar Iqbal on Twitter, Medium and Product Hunt.
Subscribe, Review, & Share:
If you enjoyed this episode of The Side Hustle Project, I would love your support. Head over to the show on iTunes or in the Apple podcast app and give us a rating please! And as always you can catch every episode on the Apple podcast app, Stitcher or wherever you get your podcasts. Thanks for tuning in.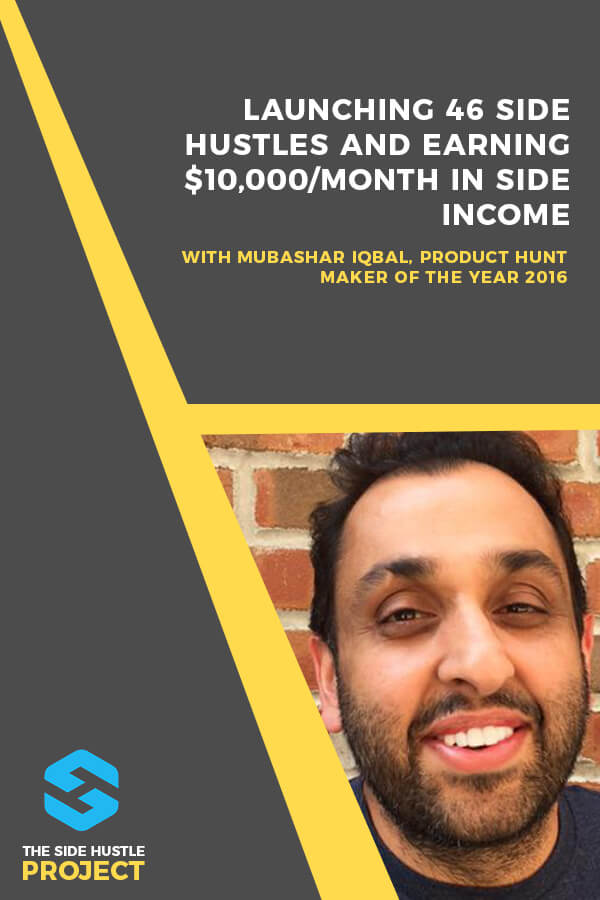 Shoutout:
Special thanks to our sponsor for this episode, Freshbooks: Cloud accounting for freelancers, solopreneurs and side hustlers.