About the episode:
In this episode, we're chatting with Debbie Millman—who's been named, "one of the most influential designers working today" by Graphic Design USA.
Debbie is a designer, author, educator and host of the podcast, Design Matters where she's interviewed designers, creatives, entrepreneurs like Malcolm Gladwell, Seth Godin, Steven Heller, Tina Roth Eisenberg and many more.
Debbie spent 20 years as the President of Design at Sterling Brands, one of the world's top branding firms where she landed the company business with clients like Pepsi, Gillette, Star Wars and more.
But Debbie's no stranger to the side hustle… she actually started freelancing on the side of her very first day job straight out of college—she did design work for small local businesses in her neighborhood in New York City.
Since then, she's grown to having numerous side projects including her podcast, writing 6 books, teaching the Masters in Branding program at the School of Visual Arts, being the creative director at Print magazine, a blogger for Fast Company, and president emeritus of the American Institute of Graphic Arts, to name a few.
In Today's Episode, We Talk About:
[03:19] As always, we start off by finding out what book Debbie is reading at the moment.
[04:09] Listen to Gaby's thoughts on the difference between rejection and failure.
[08:47] She gives her best piece of advice for getting started as a freelancer and how to continue pushing forward.
13:57 She talks about the early stages of her podcast, Design Matters.
[17:50] Debbie also talks about the all of her numerous side projects over the years.
[24:15] She shares why she believes confidence is overrated, and how to create moments of courage that'll help you achieve your most meaningful goals.
[27:30] She talks about the best investment she's ever made in her career history.
Like What You're Hearing? Subscribe for New Episodes.
Resources Mentioned:
Afterglow (a dog memoir) by Eileen Myles
Hourglass: Time, Memory, Marriage by Dani Shapiro
Connect with My Guest:
www.debbiemillman.com
Design Matters on iTunes
Debbie Millman on Instagram and Twitter.
Subscribe, Review, & Share:
If you enjoyed this episode of The Side Hustle Project, I would love your support. Head over to the show on iTunes or in the Apple podcast app and give us a rating please! And as always you can catch every episode on the Apple podcast app, Stitcher or wherever you get your podcasts. Thanks for tuning in.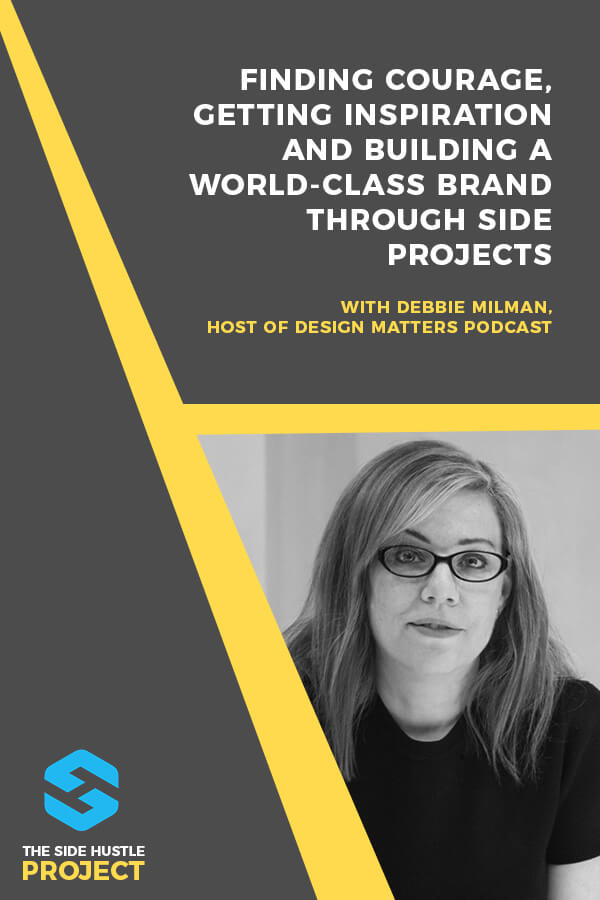 Shoutout:
Special thanks to our sponsor for this episode, Freshbooks: Cloud accounting for freelancers, solopreneurs and side hustlers.